Umayal Collection
Celebrating Nature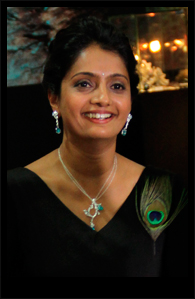 The beauty of Nature is evident everywhere. If we only choose to look, we will find inspiration from the simplest things in the forests and the seas. A tree branch laden with bright berries, colourful corals from the deep blue ocean, the changing seasons – all these and more have proven to be the inspiration for thousands of artists and designers over the millenia.
Enamoured of the natural beauty she has seen on her travels around the world, Datin Umayal Eswaran was inspired to put together a collection that would reflect nature in all its splendour.
"We often take the beauty of nature for granted. The brightness of a blade of grass, the soft velvety touch of a rose petal, and the filigreed silhouette of the sea fan coral are all examples of the creativity nature displays. The greatest tribute we can pay Her is to attempt to emulate Her ingenuity. The Umayal Collection is our own ode to nature," says
Datin Umayal.
"Combining my own love for our natural heritage with my appreciation for the fine things in life, this collection is designed to be simple yet elegant, and will add a distinctive touch to the wearer's sense of style. I know it will connect with the hearts and souls of discerning women around the world."
Inspired by the rustic beauty of tree branches and the intricate lacey designs of corals from the sea, the pieces in the Umayal Collection are artfully fashioned from silver and ornamented with delicate gemstones. Each piece is handmade with the utmost care by skilled craftsmen, ensuring its uniqueness and quality. Created to emulate nature at its best, the Umayal Collection is one that will appeal to those with a passion for nature.
As an executive member of RYTHM Foundation, Datin Umayal adheres to the fundamental philosophy of the Foundation – RYTHM, an acronym derived from the precept 'Raise Yourself To Help Mankind', based on the idea of being the change you want to see in the world. A portion of the earnings from the sale of the Umayal Collection will be donated to RYTHM Foundation, for further use in its charity work across the globe, giving help to those who need it most.
About RYTHM Foundation
RYTHM Foundation was created to reflect the fundamentals on which the QI Group has been built
since 1998. The mission of RYTHM Foundation is to build opportunities and care for those in need. It aims to create decent living conditions and to protect the environment to facilitate sustainability. It also strives to ensure our children – the symbol of our future – are safe and supported, now and tomorrow. RYTHM Foundation is the corporate heartbeat of the QI Group, keeping alive the employees' social conscience and serving as a constant reminder of the Company's core purpose.
To learn more about RYTHM Foundation, visit www.rythmfoundation.org